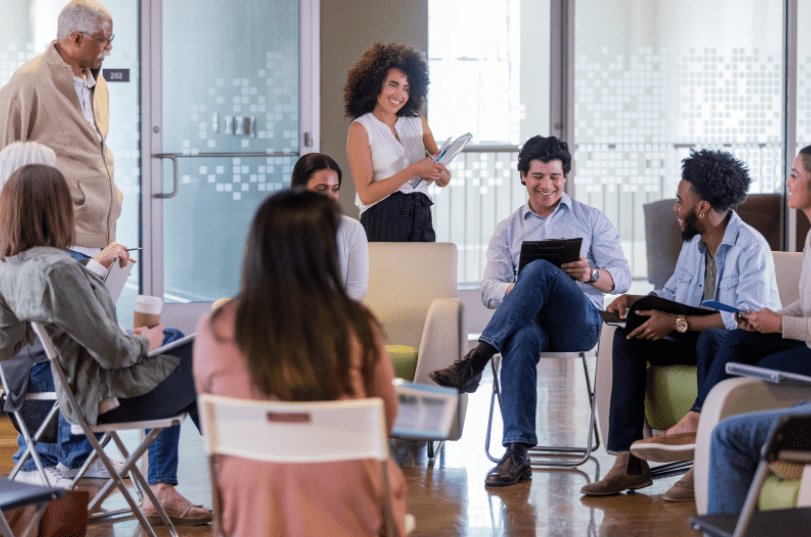 To answer this question we invited Anamaria Dorgo – who is Head of Community at Butter, a Learning Experience Designer, and a Workshop Facilitator. This article also celebrates our collaboration with Butter.us and Butter Community. The Butter Community is a global community of virtual facilitators, workshoppers, trainers, consultants, designers, and educators. They are advocating for a new way of virtual collaboration— one that creates energy, sparks creativity, and drives change. Their goal is to make virtual workplace facilitation skills mainstream. We are very excited to introduce you over the coming months to Butter and learn more together.
For now, enjoy Anamaria's perspective on Why facilitation is one of the cornerstone skills of the future.
Facilitation skills are what everyone will need to master in the workplace of the future. Here, we explain why facilitation skills are essential.
Until now, facilitation was treated as a niche skill reserved only for specialized "facilitators". As the world is changing at a pace like never before.
The way we work, connect, interact, and live our lives is changing as well.
Thus, facilitation will be a must-have skill for career and business success.
Here's why:
To stay competitive, companies will become agile and flatten their organizational structures. This will shift the role of leadership from management and execution to enablement through coaching and facilitation.
The need to innovate faster will emphasize collaboration, co-creation, creative problem solving, and the ability to harness constructive conflict within teams.
A highly distributed workforce increased inequality, and the acute need for wellbeing requires a joint effort to design ways of working that are inclusive, supportive, and compassionate.
In this article, we'll cover why facilitation is the workplace skill of the future, including tips on how to boost your facilitation skills.
Facilitation helps navigate a less hierarchical workplace
Flatter work structures change the role of a leader from boss to facilitator.
Consequently, those organizations used to be about rigid hierarchy or matrix structures, clear reporting lines, and processes meant to standardize and control everything.
Formerly, facilitation applying- companies have taught us that valuing agility, speed, creativity, and innovation are those that will thrive in the "new world."
Hence, future-ready companies are already flattening their structure—whether it's by implementing squads, networks of teams, New Work, or the helix organizational structure.
Flatter structures require setting the table for rapid decision-making capabilities.
So, leaders need to adopt a new mindset. Instead, knowing and accepting that they no longer have all the answers, and their role is no longer to purely "manage" their teams but to "enable" them.
Therefore, a manager's role is to ensure their people have a strategic direction, clearly defined roles, and decision-making rights.
Particularly, leaders should focus on infusing their teams with a sense of belonging and self-sufficiency to navigate change and uncertainty.
Leaders will need to hone their facilitation skills:
Listening – holding space and being comfortable with silence
Inviting conflict – and knowing how to channel it into something constructive
Co-creating – collaborating instead of telling, and resisting the urge to come up with solutions
However, leaders won't have all the answers, so they'll need to take a facilitative approach to problem-solving.
Training facilitative leadership and workplace skills enable inclusivity and compassion
Companies are quickly realizing the need to pledge their commitment to their people.
There's a switch from "here and now" towards sustainable people management, and long-term employee development.
Instead, up-skilling and re-skilling are becoming top priorities, so leaders will have a crucial role to support the skill development, training, and growth of their employees.
A study published by McKinsey in September 2021 shows what employees value most in an employer:
Feeling valued by the organization and their managers; and

Feeling a sense of belonging
Employees expect work to be a life-enriching experience, rather than a matter of mere survival. People care about the impact their work is making, building relationships with their colleagues, and getting opportunities for career advancement.
Therefore, the workforce of tomorrow requires a new type of leadership: facilitative leadership.
The concept was defined by David Conley and Paul Goldman in 1994 as "the behaviours that enhance the collective ability of a school to adapt, solve problems, and improve performance."
Although it's not a new term, facilitative leadership is a rising trend in the workplace.
Here are three reasons why facilitative leadership skills will drive the future:
Facilitative leaders encourage their teams to openly discuss fears or feedback that might lead to unproductive behaviours.

They know when and how to ask the right questions, how to invite and hold space for disagreement and emotions, and how to use tools to channel them towards something constructive. Open and candid dialogue is the foundation for psychological safety to emerge within the team. Feedback, even when uncomfortable, becomes a recurrent part of team meetings and a driver for learning and growth.

Facilitative leaders invite each voice to be heard and assure that each team member feels valued.

They skillfully manage contrasting opinions to minimize conflict among team members, while acknowledging and respecting the individuality of each perspective. They make use of inclusive group processes and can open up the space for those people with more reserved participative styles.

Facilitative skill-based training and leadership guide teams towards the accomplishment of their goals, without micromanaging them.

They ask rather than tell, they use debriefing and retrospectives, let go of control, enable initiative and creativity, and involve team members in decision-making. This creates a sense of shared ownership and responsibility within the team, which leads to increased commitment to the organization.
Facilitation leadership skills enable collaboration, problem-solving, and innovation in the workplace
Unquestionably, the shift to remote and distributed teams has resulted in a more globalized and diverse workplace.
Research has shown that bringing people together from different backgrounds and perspectives leads to more creativity and innovation.
However, harnessing differences and channelling diversity productively doesn't come easily—it requires a facilitative approach.
Therefore by including, motivating, and aligning different personalities towards a common goal, facilitation nurtures empathy, inspires trust, and creates a culture of empowerment.
For example, facilitators provide a framework to include everyone's opinions before the group makes any decisions.
They also make sure every participant is comfortable sharing their ideas.
In addition, a good facilitator does not take sides. They guide the process from a neutral point of view—enabling win-win negotiation and healthy conflict resolution.
Dr. Kathy Obear compiled many concrete facilitative behaviours that infuse inclusion in the way we work and interact in this article.
What do facilitators say about the future of facilitation?
We've asked the Butter Community why they think facilitation is one of the critical skills of the future.
Here's what they said:
"We've already seen a huge shift from autocratic leadership to the leader as a coach—essentially, a leader who listens more and asks more questions. Leaders will need the skills we most associate with the world's leading facilitators – such as understanding conversational dynamics, group process design, synthesis, and redirection."
"Future organizations will leverage more and more things people didn't know they knew and things they didn't know they didn't know. Facilitation is strategic in letting implicit learning emerge and give space to collective intelligence."
– Gianluca Gambatesa, Co-Founder at alibi.design
"As highlighted in books like Peter Senge's The Fifth Discipline, Nassim Nicholas Taleb's Antifragile, and Sense & Respond (by Jeff Gothelf and Josh Seiden), organizations of the future need to embed a culture of experimentation and learning to tackle uncertainty and ambiguity. They need to bake in resiliency to be able to thrive in the face of disruption. This, to me, is a huge opportunity for facilitation. The types of experimentation, learning and resiliency that benefit organizations happen best when shared in groups; in our meetings and workshops together. That's where you'll find facilitators, enabling those insights and shared benefits to happen. As a bonus, experimentation, learning and resiliency are huge incentives for facilitators, and make great success indicators for the quality of their work, too."
"Facilitation is not a skill we all need in the future, it's a must-have skill right now! Many of us have lived the struggles of non-productive meetings and virtual fatigue. Moving everything to the virtual environment has made it more clear that facilitation is key to driving engagement and outcome-oriented sessions. Therefore, facilitation is something we must start exploring more. We need to start training this muscle to create a more effective, inclusive, and engaging future of work and social gatherings."
How to future-proof yourself with facilitation
Firstly, we've put together some of our favourite resources to help you get started with workplace facilitation skills training.
Books – for those of you looking to deep dive into the topic
Podcasts – for those looking for inspiration and practical nuggets
Toolboxes – for those of you that don't have the time to reinvent the wheel
Tool stack for collaborative and engaging virtual workshops:
For those of you looking to take your skills to the next level:
Practice is truly what makes us better facilitators, so why not join a community of like-minded people where you can sharpen your skills?
The Butter Community is a global community of virtual facilitators, workshoppers, trainers, consultants, designers, and educators. We are advocating for a new way of virtual collaboration— one that creates energy, sparks creativity, and drives change.
In conclusion, our goal is to make virtual workplace facilitation skills mainstream. Presently WeWent.com is equipping organizations, leaders, managers, and team members with the necessary tools and mindset to reach their goals collaboratively.
Anamaria Dorgo
Head of Community at Butter, Learning Experience Designer and Workshop Facilitator