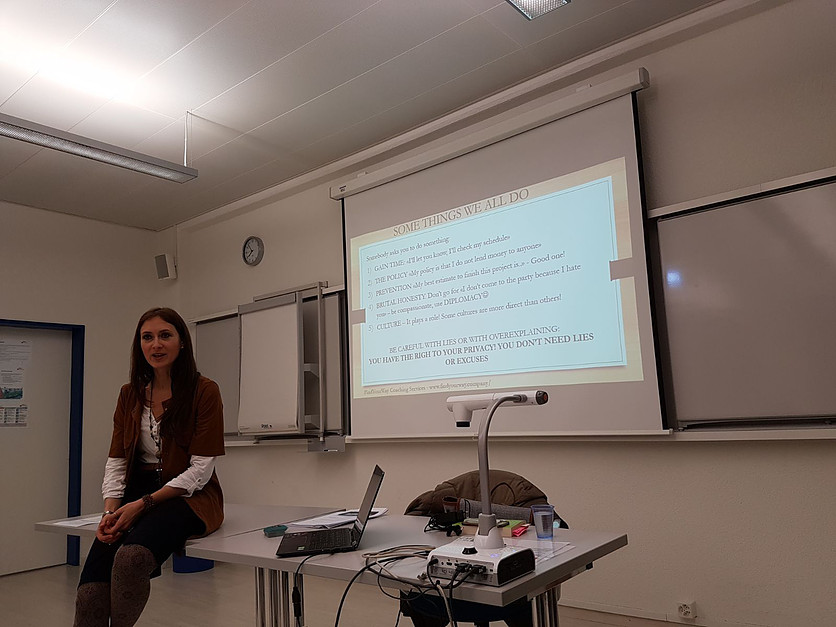 Assertiveness is usually there as a common misconception among people who think that they must always say "no" to other people's demands. But is that true? What exactly does being assertive mean in our daily work life? We've interviewed Alessandra Patti to better understand the concept and its importance in teamwork. Read on to find out more!
Finding your way… and your why
Alessandra is a multilingual coach, consultant and training provider on the topic of assertiveness skills, self-confidence and feedback culture at work. When asked what she loves about it, and why she does what she does, Alessandra responded by saying:
.. I do what I do because there would be no other way for me! I love to support individuals and teams in their personal development, and help changing work environments for the better.
What's This All About?
In a nutshell, it's all about Coaching, Assertiveness, and Language Transformation techniques.
Being assertive and confident can be learned but it won't stick without psychological and research-based insights.
The classroom (learning room) and workshops are the perfect models to help you get the practice you need to achieve this. It's very interactive. For instance, roleplay is an important technique and a great way for interaction. Teams are built as a result of the work done together on this topic.
What is your main goal?
To prepare people for uncomfortable conversations.
What are typical and not-so-typical team challenges this technique can solve?
Some of the more typical challenges are confrontations, crucial conversations, passive attitudes, brainstorming difficulties, engagement and diplomacy.
Nonetheless, developing your assertiveness and crucial conversation techniques also improve the rapport between the manager and the team. It also helps you develop negotiation skills as you become more capable of effectively expressing your needs, opinions and thoughts.
It helps teams identify a common goal. In general, people might be quite unsettled by negotiations. And yet, in this framework, negotiations are basically compromises.
The challenge of "saying NO" is quite important as well- people usually think they have to actually say the word NO, but during the workshop, they realize it is not even needed.
You can expect..
To gain knowledge of behaviour types (assertive vs aggressive)
To learn language techniques to be assertive
Have fun in the interaction and psychological insights
Understand what it means to be more assertive at work
Improve decision making and performance
As a result, ROI can be expected in the long-term – i.e. less turn over, more engagement and better decision making within the company.
Unforgettable memory
A very cool team at an IT company joined one of our workshops. They knew each other very well and worked very closely to each other. I was trying to show them that being assertive might be a bit easier when you know quite well the person you are talking to. However, the man in the roleplay was showing defensiveness towards the team members with his body language during the roleplay.

So, one of the team members said
"This is not defensiveness, hands in the pocket is normal for him. We are used to it. It looks actually assertive to us!"

We had a good laugh afterwards.
Ready to try it out?
This is a learning experience, and you can experience it as group coaching, and even 1to1 coaching follow up.
Have a different team building! Try to use assertiveness for more engagement within teams, better communications skills, brainstorm better! The workshop is tailored to each team's needs and can be also focused on special nuances such as work-life balance. Bookable on your wewent.com platform under Assertiveness and Feedback Workshop