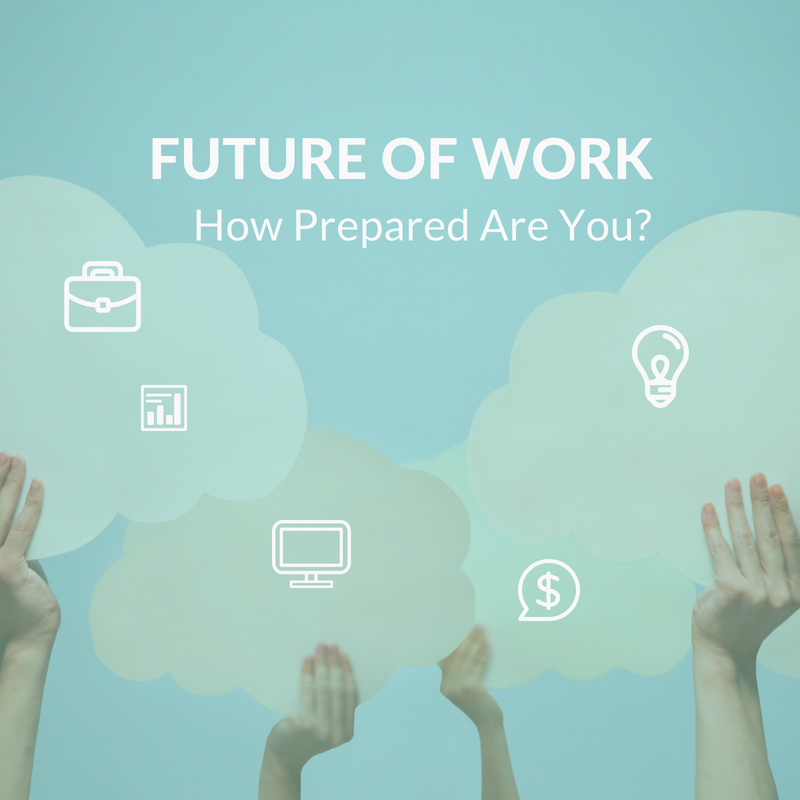 The Future of Work: How Prepared are you?
Future of Work: How Prepared are you is an article that has been written by Aleksandra Potrykus for the Swiss Entrepreneurs Magazine
As an HR professional, a co-founder of an HR start-up, and a mother, I have been fascinated by the Future of work and what it holds for us, and generations to come. It's both exciting and somewhat unsettling to witness how technology changes faster than society.
But I am an optimist and rather than being frightened that technology will take over our jobs, I tend to agree with the predictions, such as the World Economic Forum ("The Future of Jobs", Jan 2016) that Artificial Intelligence and other deep technologies may take away a number of jobs, but will also create more jobs.
It's important to remember that the future of work isn't just impacted by technology itself. The new business models, demographic and socio-economic changes also play a role.
Already today, you can observe the impact of new organizational models, community approach, and work sharing from part-time employees to the workplaces. There is also a shift in the demand and supply of the workforce such as an increasing number of freelancing platforms and freelancers. Not to mention an increased interest in buying experiences rather than products.
Observing the level of change, it's hard to predict what new industries or business models will emerge in ten or twenty years. We already can see that many businesses and some of the current in-demand jobs did not exist ten or even five years ago.
World Economic Forum indicates that 65% of children entering primary school today will ultimately end up working in completely new job types that don't yet exist.
However, this doesn't excuse us from preparing for the future now.
So what does the current research and insights regarding the future of work show? And how can we prepare? Here's a short summary from an assumed optimist and believer that tech can also be used to bring people together.
LEARN TO LEARN
The idea of getting a degree or occupational training and then moving on to a company or job for the rest of your life is long gone. The fast pace of change and the Fourth Industrial Revolution demand on us, first and foremost an ability to adapt and secondly what comes with that continuous up-skilling.
Gartner says that the shelf-life of skills is getting shorter and shorter ("6 Ways the Workplace Will Change in the Next 10 Years", Gartner Dec 2017). For employers that will mean bringing learning to the forefront of the business strategy and looking for better, faster, smarter ways of learning, optimizing methods and experiences. I have seen people skeptical or tired of some of the formal learning in workplaces. Struggling to find time to sit through another e-learning, overwhelmed by the amount of content.
I am personally a big fan of bringing less traditional ways of learning, such as hackathons, or boot camps. These can help employees think outside of the box, get out of the typical office routine, collaborate with employees from outside of their own department or even externals. Such forms of learning encourage innovation, collective thinking, creativity and connection. Already today companies collaborate with startups to get into their mindset and gain their perspective.
For employees, it will mean, falling in love with learning again, be it, in or outside of work. And learning to unlearn some skills too.
FOCUS ON SOFT SKILLS – KEEP IT HUMAN IN THE AGE OF DATA AND TECHNOLOGY
Data is everything today. We are all part of an ecosystem that becomes a number on a scoreboard whether we are at the top or at the bottom of the organizational hierarchy. The technology shift does not only change the way we deal with work but also "upgrades" our workspaces.
We own smart desks and smart boards next to our smartphones. We spend hours in front of our devices. Entries to the office or how we interact through software are all down to statistical calculations and evaluations now. Talent pools are screened by AI, to choose the best candidate among many applicants.
In such setting, it's easy to forget the authenticity and uniqueness of the people around us. In between both of the worlds what is important is keeping the conversation active and real with one another. It's important to invest time in getting to know people around us, taking the time to notice, listen and be heard. For employers, this means creating space and time for people to do that.
You may be wondering – what skills to develop? As important as investing in hard skills may be, developing soft skills will be the number one priority. To help identify which soft skills will become more crucial, the World economic forum ranked 10 top skills in 2020.
Source: Future of Jobs Report, World Economic Forum.
TEAMWORK MAKES A DIFFERENCE
A 2013 survey conducted by Longitude Research for the assurance firm EY found that 90 percent of business executives surveyed said companies are working on problems so complex that only teams of people working together will be able to solve them.
The truth is, no matter, how deep your expertise is, you will need to communicate, create and solve problems with other people, either in your teams or outside of them. So forging the new realities that lie ahead, will only be possible through working together, as a team.
For employers that will mean bringing multifunctional teams together to connect and collaborate. For employees, this implies openness and ability to work across and beyond their field of expertise. Bringing new insights outside their function, location or any other silo they might be operating within.
But how do we master teamwork? Well, it has to start with us taking the first step, diving into and developing intrapersonal skills such as self-awareness as well as emotional intelligence. Developing social intelligence and relationship management are equally key.
Such learning won't come from watching a tutorial. It comes from practice and willingness to get into a group session, to build trust, purpose. To get to know each other better and tackle those hairy, complex topics together. It comes from being open to listen, building empathy, being open to feedback.
SO HOW CAN YOU GET READY FOR THE FUTURE OF WORK?
Remember learning is a skill in itself. So enjoy it. Find ways to learn that best suit your lifestyle, learning or personality style. There are numerous sources of learning out there, to name a few, Udemy, Coursera or LinkedIn Learning. The number of tools and platforms available will make your experience exciting. And don't settle for one.
And if you don't like learning on your own. You appreciate learning by doing? Then I recommend joining one of the multiple learning events happening around your city. Just check Eventbrite and you will be surprised how much is on offer every week. For example, Startup Weekend offers a 54 hours experience where you can create a business idea and pitch it in front of an audience.
And lastly, nurture, develop and invest in teams. You can start simple. In my corporate role, I met a manager who would dedicate an hour a week to learning together with her team. Not only this team spent the precious hour together, but also connected for a common goal of learning something new. And everyone in the team owned this, by bringing internal and external content to the learning session.
So, don't panic and don't get overwhelmed. Enjoy learning along the way, evolve, and accompany the change whether you are the employee or employer.