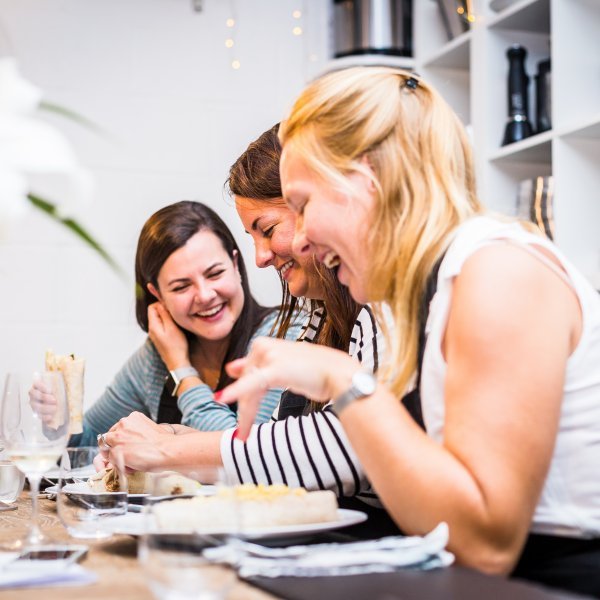 Food is essential to our existence. We're humans after all with grumbling stomachs to fill. We love to eat and we need to!
Food does not only provide nourishment. It awakens our tastebuds and ushers us into gastronomic adventures reflective of our history, culture and tradition. And when we gather around the table for meal times, it's not only the food that we share but also a part of ourselves. Eating is a communal activity that binds people from all walks of life and the preparation behind every dish has a story of its own.
But did you know that cooking and dining can also be used to increase the productivity and camaraderie within your organization? A recent study concluded that there is a direct connection between people who share a meal together and their performance.
The team that cooks together, stays together
Cooking is a unique company activity you don't regularly see. You may find yourself scratching your head where to start. Good thing, we have experts like our provider behind the TEAM BUILDING COOKING EVENT.
Our featured provider is a family-run cookery school focused on making your team tighter and stronger through good food and great company. They conduct team-building events and hold both public and private cooking classes. Their services also include every kind of party you can think of, from kiddie birthdays to summer and Christmas celebrations. You can bank on them to make any occasion special. They've been in the business since 2004.
Unlike your usual outdoor setting, they conduct the team-building activities in the kitchen. The cooking experience is unforgettable and you get to gobble delicious food after, but that's not the best part yet.
What makes the sessions memorable is that you get the opportunity to interact with people you run into every day at work. While learning how to actually cook (knife skills, techniques and all), you can discover more about each other and learn life lessons along the way. To foster a better team dynamic, participants are asked to work in pairs or more. Communication and time management are key skills they need to utilize to finish the tasks correctly.
"Our main goal is to have everyone participate in some way. Along the night, we hope that the way we teach and challenge the participants will create tighter friendships within the team."
You'll be amazed at how cooking can be the total ice-breaker. It encourages people to come out of their shells. Sometimes, individuals who don't shine much in the workplace are surprisingly the ones who are rock stars in the kitchen.
Over the year, this company has witnessed how friendships and work relationships grow while preparing ingredients and stirring the pot. Two of their participants even became a couple! They've swapped numbers after an event and booked another session for their second date!
Fun, relaxed and delicious
It's your chance to destress! Unlike in a regular culinary class, it's alright to be goofy and messy during the sessions. Even colleagues who you thought cannot hold a pan and a ladle can put on an apron and participate in this one-of-a-kind bonding activity.
And of course, what follows after the cooking? Eating, no less! Expect some good tasting wine to complement the feast. Not only are your bellies full but your hearts as well with endless fun and laughter. They offer bottomless booze packages, by the way. For real!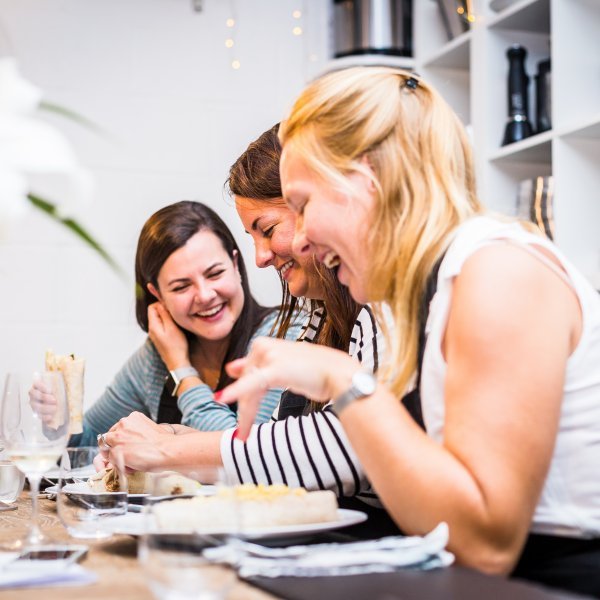 A recipe formulated just for you
In case you're wondering, this provider doesn't utilize one recipe for all. Their activities are tailor-fit to their client's needs. They can conduct 3-course dinner workshops, pasta and sushi-making sessions and more. If you want a competitive atmosphere, they can also conduct their events Bake-off/Master Chef style. Ask them to create a special recipe of fun and learning specifically for you and they will enthusiastically oblige.
More information on their rates and available packages when you click here. Book today. Your team (and your tummy) will thank you for it.